Slots are one of the most popular games in online casinos. The providers' design studios are real hotbeds of ideas and compete to launch the largest number of slots with the most innovative and fun titles. But what's behind of an online slot machine?
How Online Slot Machines Work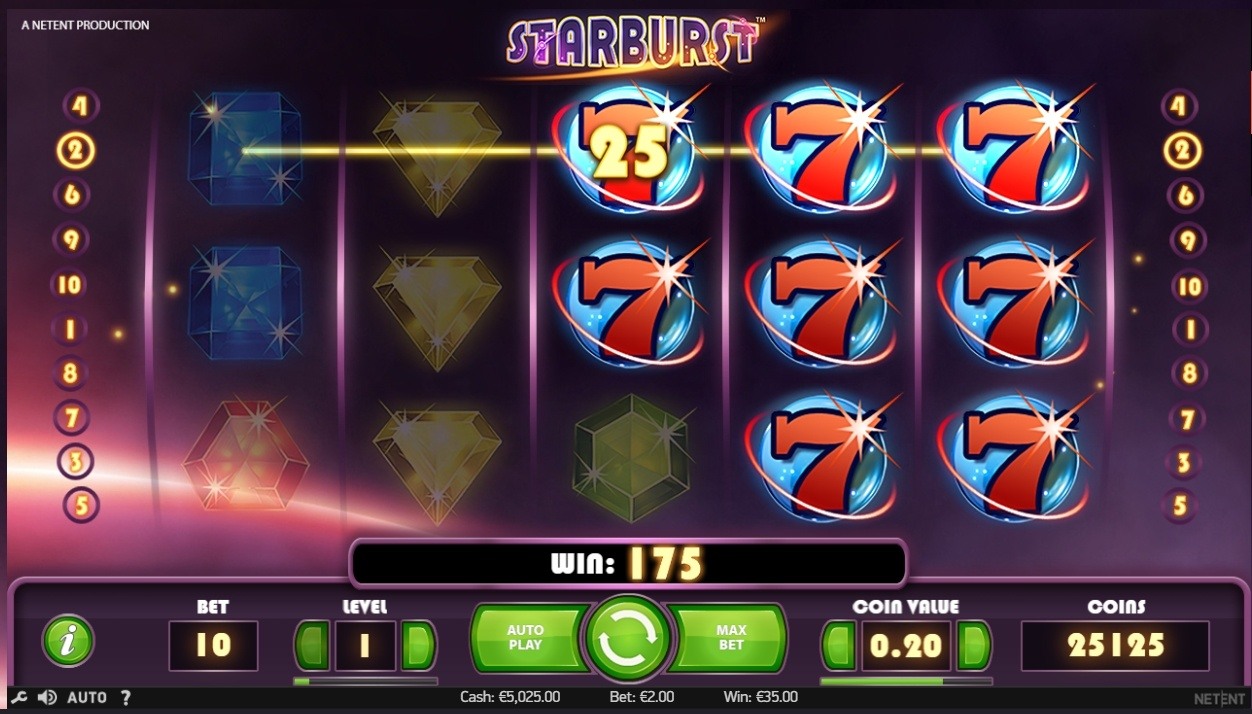 We can observe only the interface in an online slot machine, so we could consider it to be something like the exterior part of the game, set with a theme that gives rise to the audiovisuals that characterize it, and which is used by the player to interact with the machine. We can see:
Spin / Play: this is the button that allows you to start playing. Once pressed, the slot starts letting you play.
Auto Spin / Auto Play: this will start non-stop spinning.
Max Bet / Play Max Credits/ Bet Max Coins: it can have various names, but in any case, by pressing this button you can play the maximum number of credits that are allowed by that particular game.
Credits / Coins: This is the indicator that shows how many credits a player has left. When these credits drop to zero, the player will have to find a way to replenish the sum. Methods can vary, not necessarily a money deposit, although this is the case in most situations.
Coin value: this one points out how much 1 coin costs expressed in real money from your balance.
Bet: the number of coins/credits that will be bet once you push the Play button.
Win: This indicator shows how much money has been returned to the player as credits or directly as cash to be withdrawn.
The internal software of the machine is something called RNG. The RNG is in charge of generating the combinations that give rise to all the functions of the machine, from placing the symbols on the reels to activating the bonuses and giving out prizes.
Most Popular Online Slots in Canada
These slots are among the most popular online slot machines to date. You will have the opportunity to play many of them on the most popular Canadian online casino sites:
Mega Moolah
Developed by Quickfire of Microgaming, the Mega Moolah slot has 5 reels with 3 symbols each and a total of 25 pay-lines, which comes out to 25 winning combinations. You can place bets starting at 25 cents, although if you want to win the jackpot you will have to play with the maximum bet.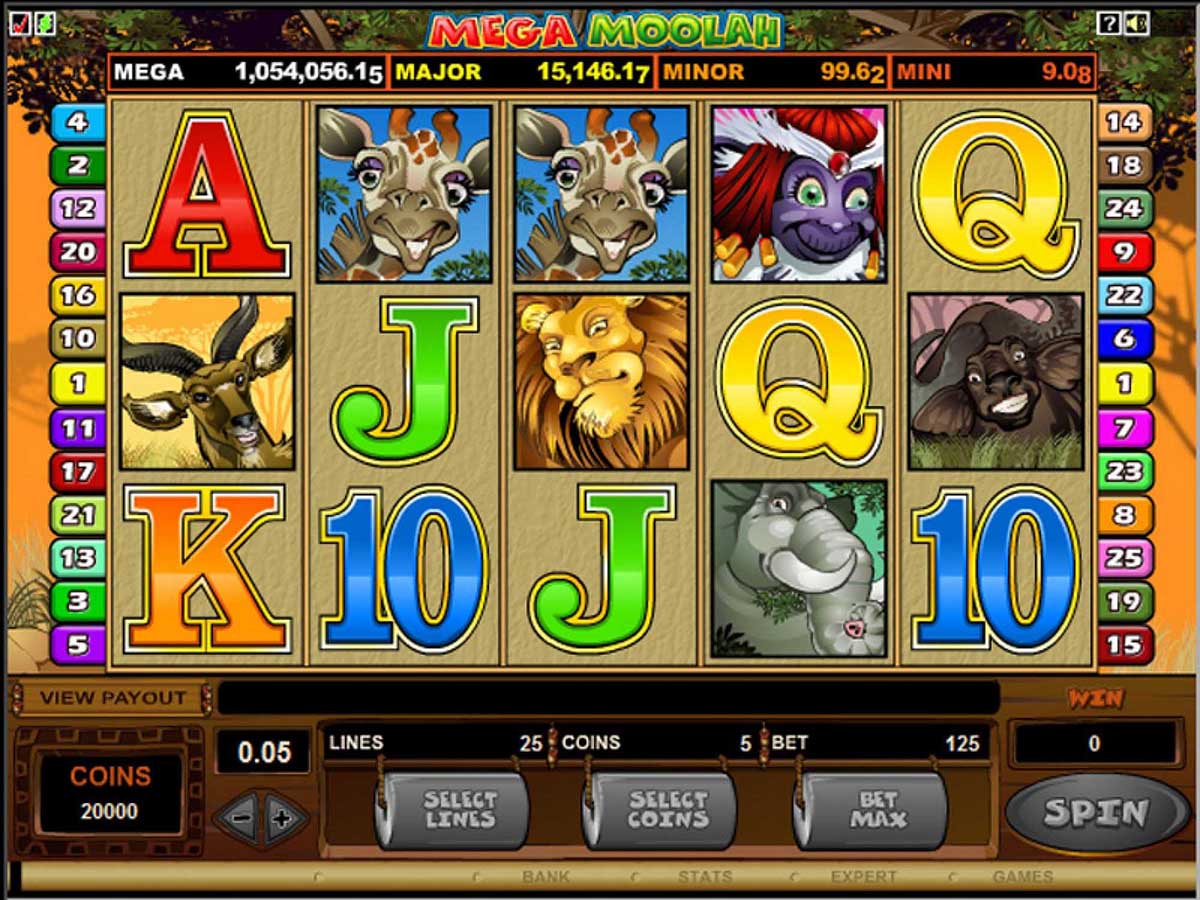 The animal symbols (lion, giraffe, monkey, zebra) include symbols of lesser value, which are the classic cards of a poker deck (A, K, Q, J, and 10). The monkey is the Scatter, and if we get 3 symbols of the wild monkey, we activate the bonus, which will give us 15 free spins. These spins also act as a multiplier.
The Mega Moolah slot has 4 progressive jackpots: The Mini Progressive, the Minor, the Major Progressive, and the Mega Progressive, which grow thanks to the percentage of each of the players' bets. This makes its theoretical Return to the player a little lower, being around 94% but, nevertheless, if you get the jackpot, you become a millionaire. In other words, there are a few prizes, but very high ones.
Starburst
With five reels and ten pay lines, all the precious stones are symbols that will make us win prizes, in addition to the word BAR and the number 7. The Starburst logo is the symbol that will lead to much bigger prizes. Unlike other machines, this slot has a very interesting feature. The symbols of this slot can be counted from left to right and vice versa. If the star of Starburst falls in a row, it will expand all over the roller and increase the chances of winning a prize.
If you get two or more Starburst symbols, the Starburst Wild feature will be activated and will spin the center reels while these symbols are held in position. This will replace the free spin feature. Since the wild can only be on the center reels, this means that only this wild can win the top prize of 50,000 coins. As you can see, it's pretty simple to operate this slot so that you don't have to worry about winning prizes; however, Starburst still offers a demo version so that you can try it out and find out how the game works. You can also check the payout table to see what the jokers stand for.
Book of Ra
Book of Ra is the evolution of a slot machine that became one of the company's flagships, having many special features that have been improved in quality. In that sense playing this game now will feel like a completely new experience. A few reels loaded with surprises that will make you play for hours.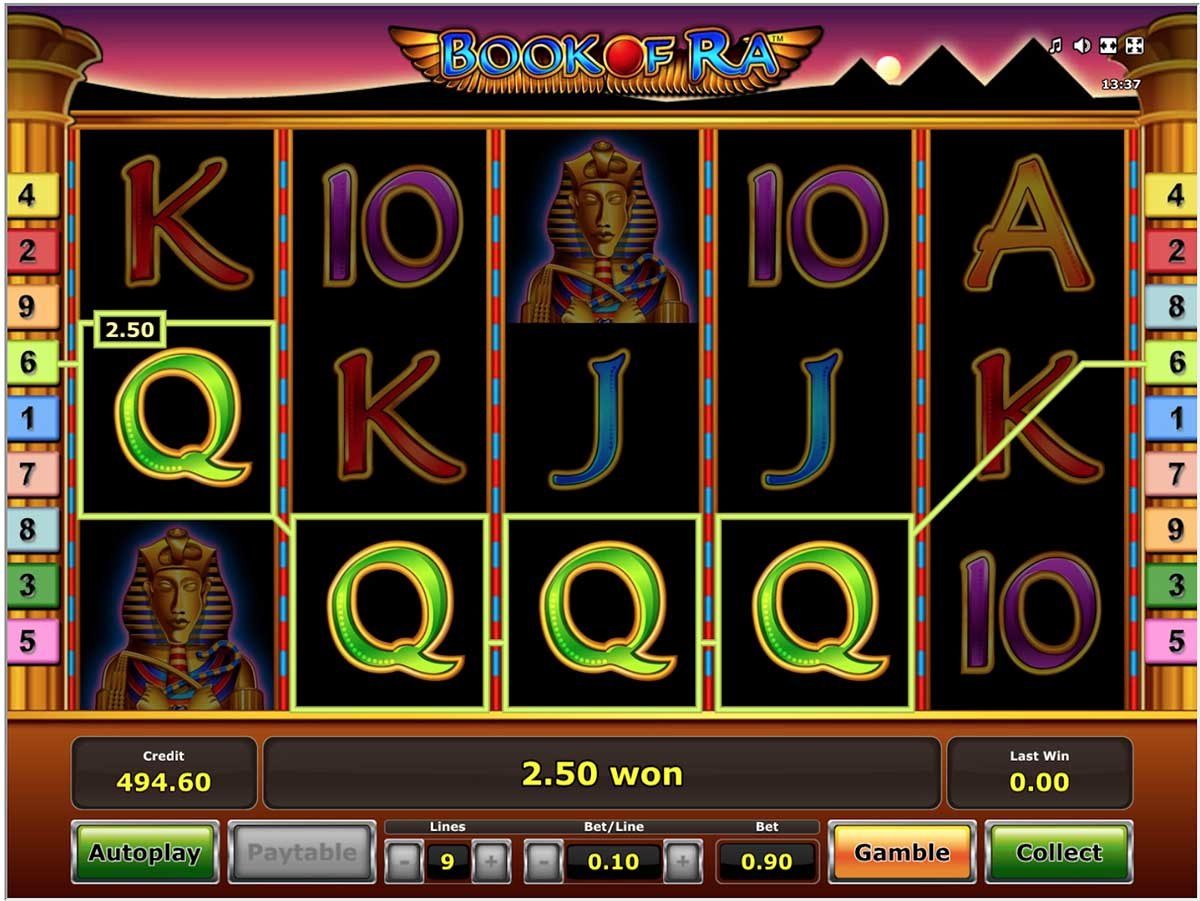 In this slot game, you will get about 10 pay-lines enabled for you to start accumulating wins, in its lanes, we find a simple 5×3 configuration, where a variety of important symbols related to the original theme have been incorporated. The Ra Book is still the main element of the game that will help you get the most combinations possible so that you will receive the payments of a great number of prizes.
The bets can be configured in a minimum of 0.40 coins, so you can create a strategy where you can distribute your investment effectively. This game integrates an incredible Jackpot of 50.000 coins, which you can access thanks to the great number of resources that Novomatic has integrated for you to get the best possible gaming experience.
Types of Online Slots
Classic Slots (3 reels): These slots are known as "classic slots" because they are the simplest ones: each reel contains a certain number of symbols, and when three equal symbols are aligned, you get a jackpot.
5-reel Slots: The 5-reel (or more) slots are an evolution of the classic ones and are usually the most common ones in online casinos.
Progressive slots are the type of slots where jackpots are accumulated in order to make the jackpot bigger.
Multi-pay line slots: while traditional slots only have one pay line (the horizontal one in the center), multiple slots support multiple pay-line combinations.
Tips for playing with real money slots
There is nothing better than being able to play slots for real money from wherever you want. Some time ago we were limited to the computer screen, but thanks to mobile devices that's all over now. When beginners are trying to choose an online casino, doubts and questions often pop up when it comes to finding the right site and winning money instead of losing it. That's why you just have to follow our simple tips:
Choose a casino with a good reputation: You should choose a famous casino that has a good online rating and reputation. Check out information on our website, this may also help.
Choosing the best slot machine: 5-reel slots are recommended for beginners
Fund Management: Money spent on slot machine gambling should always be taken as an investment in leisure.
Evaluate your mood: You should be in a good and positive mood. If you are losing money and start getting anxious about it, you should stop playing immediately.
Get many prizes with few spins: If this is your goal, you should opt for slots with an RTP percentage equal to or higher than 96% and low or very low volatility.
Online Slots Tournaments
It's a very simple concept that combines the power of virtual communities and online slots. Online casinos that offer this kind of thing invite their users to join different games. It's a very similar event to online poker tournaments.
The tournaments can be small and short (few hours) with only a dozen participants or big tournaments where the number of players is in the thousands and the duration of a tournament can reach a whole month. They have the characteristic of being very flexible giving the possibility to the player to rest and to retake the game, although it is said that this type of game is not dependent on player skill but it's rather a game of risk.
The main purpose of these tournaments is to make your gaming experience more fun, to test new slots, and, last but not least, to win a lot of money. Skill is rarely needed: regardless of the type of tournament (freeroll, buy-in, VIP) it basically consists of hitting the spin button as fast as possible, placing the maximum bet, and playing as fast as possible. It remains extremely important to know your maximum budget.